About
Who we are
Architect Noel Marinho, born in 1927, was definitely committed to the heyday of modern Brazilian architecture, from the mid-1950s on. He has always had art and design as parallel activities, besides a special interest in integrating tiles and mosaic (striking semiotic characters of Brazilian Architecture) with the aesthetic spaces of his work.
In 2012, architect Patricia Marinho, his daughter and his partner since 1985, proposed to reinvigorate Noel´s muralist work and began organizing and classifying his long-time archived drawings, encouraging her father to go on with his artwork.
With the initial target of divulging, promoting and executing the tile compositions elaborated over several decades, the Noel Marinho brand was conceived in 2015, in partnership with Manuèle Colas.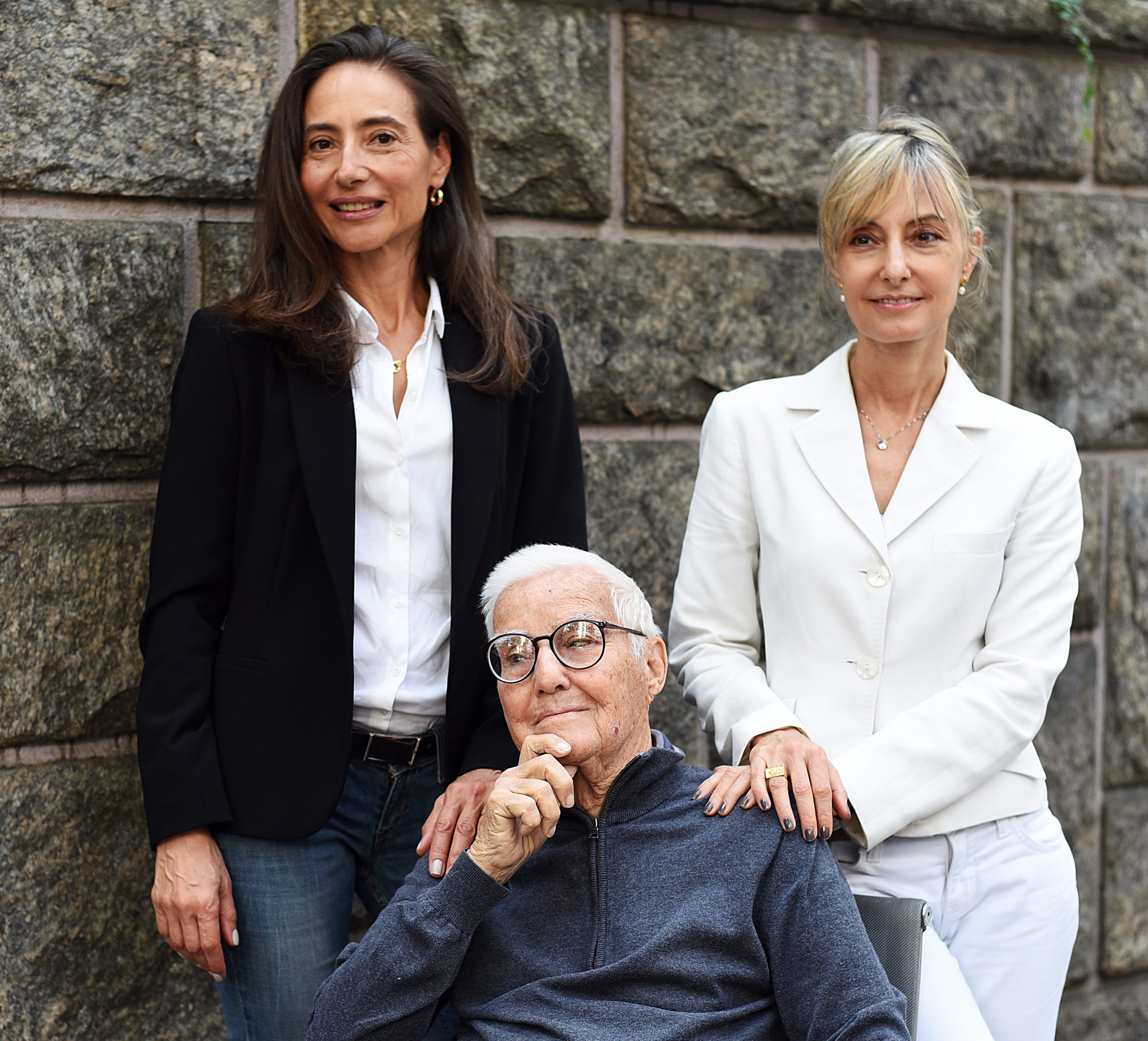 Noel, with his unique and unprecedent ideas, was a key player in choosing the element that identifies the "NOEL – Noel Marinho" brand. Conceived in the 60s, it was chosen to start off the tile collections.
In addition to reissuing collections from the 60s and 70s, many elements generated in the last 10 years were incorporated to them so expanding Noel´s design creation. Since the beginning, art consultant Heloisa Amaral Peixoto, from HAP11, has been the art curator of Noel Marinho brand.
Although Noel is no longer with us, as he died in 2018, at 90, he has actively participated in the edition of the book released in late 2019, which illustrates the work of a lifetime. His unpublished collection will allow to his art and legacy to live on.

"The tile panel is an element of aesthetic representation that interacts with modern Brazilian architecture." Noel
THE PROJECT: Noel Marinho Design Studio
Noel Marinho Project aims to celebrate and organize the work of the architect and designer, to produce art objects and promote his diverse line of creations.
Following in Noel´s steps, Noel Marinho Design Studio presents current and contemporary collections which bring new aspects of the artist´s work: from colors and shapes, in a conjunction of countless experiments and sketches by Noel, including paintings, collages and drawings, we come up with rugs, tapestries, furniture and objects that match ambiances or become remarkable and singular, fundamental pieces.
Noel is present in all the segments, even in the color palette, and in the hues with which he identified himself and which translate his art.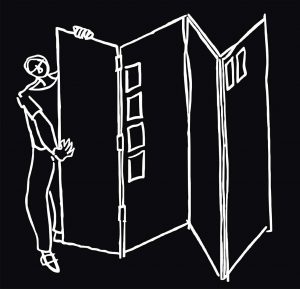 Timeline
1927
Victor Noel Saldanha Marinho was born in Rio de Janeiro on 9/27. He spent his childhood and adolescence between the neighborhoods of Urca, Botafogo and Copacabana. From an early age, he showed exceptional drawing skills, which led him to choose architecture as a profession.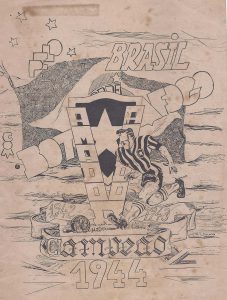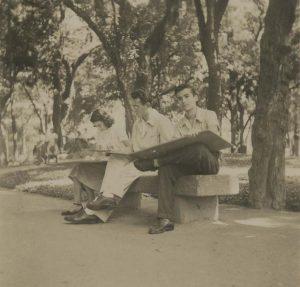 1947
Noel entered the University of Brazil to study Architecture and Urbanism.
While in the university, Noel became an intern at Olavo Redig de Campos' office, helping him in his notorious design of Walther Moreira Salles' personal residence; he has also worked with Lucio Costa at Brazilian National Historic and Artistic Heritage Institute's (SPHAN, today IPHAN).
1952
Shortly after graduating from University of Brazil in 1952, Noel and two classmates – in an adventure driven by a search for improvement – decided to go to Europe for 2 years. For one year, Noel has worked as an architect in Stockholm, Sweden.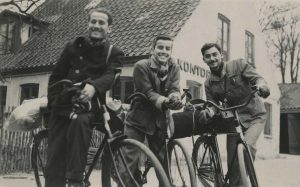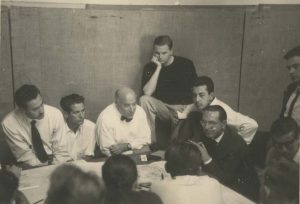 1953
From Sweden the 3 friends have ridden their bikes across Europe; Noel has then participated in the IX International Congress of Modern Architecture (CIAM), in Aix-en-Provence, France, attending Le Corbusier and Walter Gropius´ classes. The last stop was Venice, attending to Ernesto Rogers e Franco Albini´s classes in CIAM´s Summer Course.
1954
Back in Brazil, Noel joins the team of architect Lucio Costa at IPHAN, alongside his friend and colleague Mauricio Dias. They have then elaborated the project for the addition of the Missions Museum, in Rio Grande do Sul. His experience, passion and enchantment with tiles and mosaics were born in this period.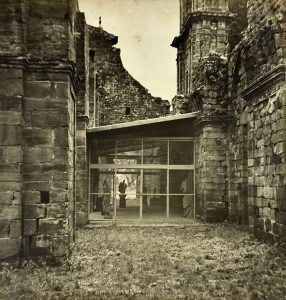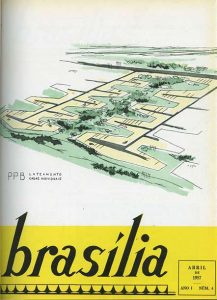 1957
Noel is called to join Oscar Niemeyer and Lucio Costa´s team. Lucio was the winner of the National Contest for ideas for the construction of the new capital, Brasília. Noel has always highlighted the invitation as one of his most expressive experiences.
1957
In 1957, his friend and designer Elias Kaufman invited Noel to create a tile composition for a residential building on Aníbal de Mendonça Street, in Ipanema, in Rio de Janeiro.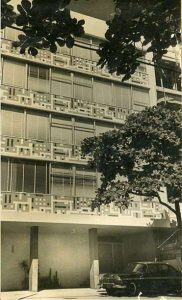 1960s
With the end of the work commitment at Novacap, Brasília, Noel decides to leave for a new venture and create his own office.
1962
In 1962, Noel created the N01 tile to be used in his project in partnership with Octavio de Moraes on a project for the Caniço nightclub, in Barra da Tijuca, Rio de Janeiro, which no longer exists.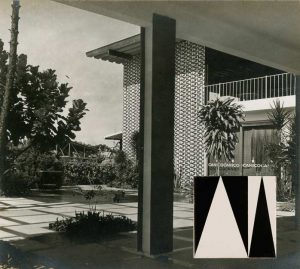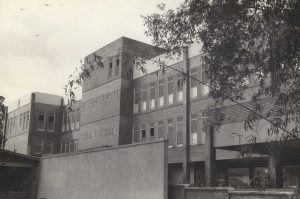 1964
From Noel´s and his college friends Mauricio Dias and Salomão Tandeta drawing boards several projects emerged, such as the Paranaense Museum and numerous professional schools of Senac – National Service for Commercial Learning, as the one in Florianópolis, the pilot project.
During the following two decades Noel designed a series of furniture. The chair is an example of his versatility.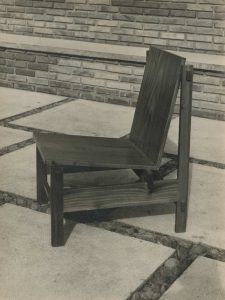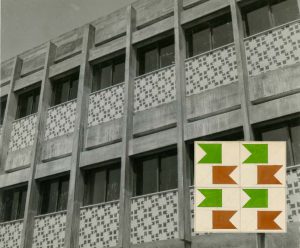 1966
After the premature death of Maurício, Noel and Octávio de Moraes became partners. It was a four-decade collaboration with Senac, the National Service for Commercial Learning.
1971
Noel continues to design schools for Senac in his office, now with the collaboration of his nephew, architect Luiz Marinho, who has become Noel and Otavio´s right-hand man. Luiz left the society in 2001 to open his own place.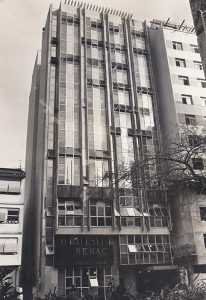 1975 – 78
At the invitation of the Secretary of State for Education and Culture of Rio de Janeiro, Professor Myrthes Wenzel, Noel, as an architectural advisor, carried out several projects in the area, including the restoration of the school network and architectural monuments.
1976
Beginning of the project plan directed to Senac's hotel and tourism area. The hotel-school Senac-Ilha do Boi, ES, opened in 1979, is one of the main ones.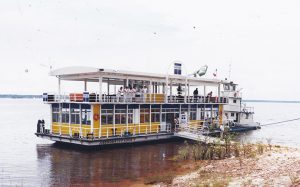 1980s to 90s
Throughout the decade, Noel launched Senac's Mobile Units Project that aimed at taking technical education to Brazil's inland. His architecture and his permanent interest for ergonomics showed then that a small trailer, a train wagon or a ferryboat could be suitable for different teaching projects, with practical and theoretical lessons, supported by technological resources.
2004
Opening of Senac Administrative Complex, on a terrain of about 90,000m² with 35,000m² of built area, in Barra da Tijuca, Rio de Janeiro.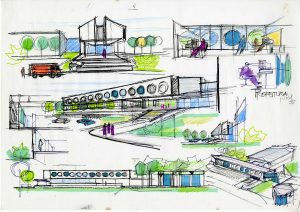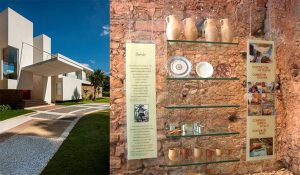 2006
Opening of the Museum of Bahian Gastronomy, in the heart of Pelourinho, Salvador, to which Noel has been connected since the 1970s. The space, deactivated since then, was restructured to receive this pioneering project.
In these decades, Noel elaborated projects for several residences, always concerned with integrating construction to the surroundings, and dedicated himself to painting and collages. Since 2006, he has returned to the creation of his tiles.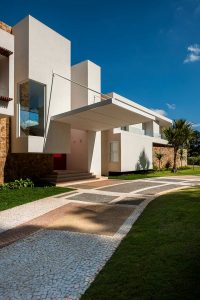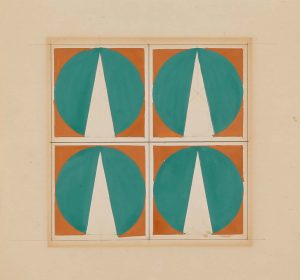 2012
As of 2012, Patricia Marinho, her daughter and partner, decided to organize her father´s collection.
2015
Noel Marinho brand is conceived in partnership with Manuèle Colas and curated by the art consultant Heloisa Amaral Peixoto, from HAP 11.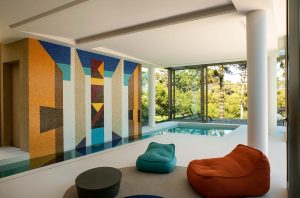 2017
The diversity of creations was already unfolding in several design pieces. The new branch of the project emerges: Noel Marinho Design Studio.
2018
The proficuous following years were dedicated exclusively to design. Noel's last work, a folding screen, was the support for presenting his matrix N.02, a variation of matrix N. 01, from 1962.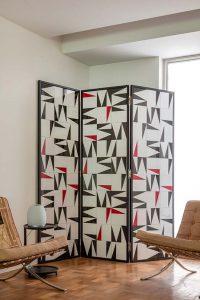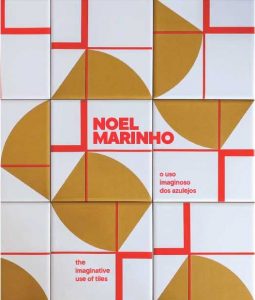 2019
Launching of the book "The Imaginative use of tiles". Publishing company Olhares.